Message from Municipal Commissioner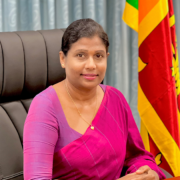 I'm so delighted on inauguration of website for Moratuwa Municipal Council for the most effective Public Service.
This website will be more useful for the officials of Moratuwa Municipal Council and the Public as well while addressing development of technology and making Public Administration and services more close to the public in effective manner.
For the tax payments from Citizens, obtaining approval for building plans, obtained competency certificate, obtaining approval for application of land lots, obtaining other services from the council and obtaining other relevant reports this website will be more useful. Further in nearest future we hope to make a platform to transfer all payments through online. And also actions has been taken to inaugurate fully systemised automated library facilities.
And also this website consists ways to obtain request and complaints from the public to develop our services.
Specially our expectation is to make Moratuwa Municipal Council as an institution where services are fully systemised with updates information technology as per long expected task and align with government policy to develop government services with information technology.