Message from the Mayor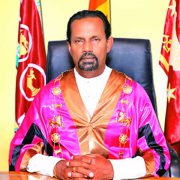 After two years of taking over the administration of the Moratuwa Municipal Council with a people elected representative of the people, we are very happy to have the Moratuwa Municipal Council website as another step forward in the people-centered system we have launched.
I hope this web site will be useful to public representatives, officials and citizens alike as the technology advances, connects the government structure and the people, and serves the public with greater efficiency.
This website is just the beginning of a long term project to automate the activities of the Moratuwa Municipal Council and we hope to transform the Moratuwa Municipal Council into a modern IT-powered local authority within the next few years.
Deshabandu Deshamanya Lanka Puthra,
W. Samanlal Fernando,
Mayor,
Moratuwa Municipal Council.